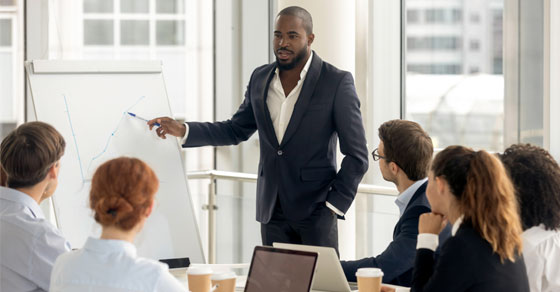 Most leadership teams would likely agree that having well-developed training programs for all positions is integral to their organizations' success. Yet it's all too easy to let training slide into obsolescence, sloppiness, or even allow it to vanish entirely when staffing shortages or extreme busyness take hold.
Don't let it happen. When employees are provided with strong initial training when hired, and ongoing training as needed, it tends to greatly improve morale, productivity, job satisfaction and retention. These are all things that will help your organization fulfill its mission and stay on strong financial footing.
Review strategic objectives
Many employers overlook the fact that creating and maintaining effective training programs is tied to strategic planning. Regularly review your organization's short- and long-term objectives to identify what your employees really need to know how to do. Examples of strategic objectives include increasing productivity, improving customer satisfaction related to your existing products or services, expanding your product or service lines, and even transforming the organization into something new.
With these objectives clearly articulated, you can then identify the "human capital" implications by answering questions such as:
What kinds of employees will we need immediately and over longer periods to achieve our objectives?
What gaps in skills are impeding our progress?
Where are the gaps the greatest? In other words, which departments or employees should be our top training priorities?
What are the best methods of building the expertise and skills we need?
Current and future needs may run the gamut from narrow technical proficiencies to more general qualities such as creativity, problem-solving abilities and leadership skills. It's important to distinguish between current and future needs, and to establish a timetable for satisfying them.
In addition, identify staff members who show the greatest potential for development in areas of need. Sit down with these highly valued employees and ask them about their own ambitions and career development needs. You may be able to address their goals with a formal training program, a mentorship or a combination of the two.
Ask your employees
Integrate discussions about training into your performance review process. These talks can be productive because they can reveal specific and timely ways that employees need (or want) to be trained. Supervisors should ask questions such as:
Do you feel fully equipped to do the job we expect you to do?
If not, what training do you need?
Where would you like to see yourself within our organization in five years?
What skills do you believe you'll need to achieve those career goals?
Some employees may be suited to individualized professional development plans that involve customized training. If you go this route, bear in mind that different people have different learning styles, so be sure to pick training methods that suit the person in question. Also, incorporate performance metrics so the supervisor and employee are on the same page about what needs to be achieved.
Finally, to manage expectations and legal risk, ask the employee to sign a written statement clarifying that completion of an individualized professional development plan isn't a guarantee of a particular job status or promotion.
Create a fruitful relationship
Both initial and ongoing training are more than just sets of instructions; they're signs of an employer's commitment to its employees. By providing both the information and guidance they need, you'll greatly improve the odds that your employment relationships are fruitful ones.
© 2023
TopLine Content Marketing Team