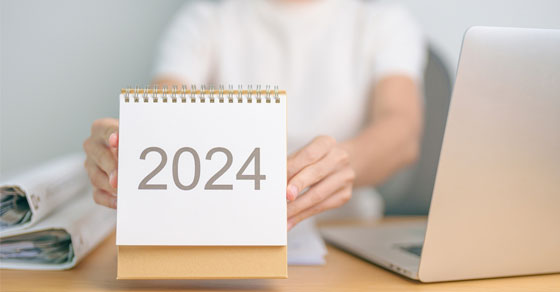 As year end nears, many businesses and nonprofits are planning for 2024. QuickBooks® provides budget and forecast features to help management make financial predictions, as well as assess "what if" scenarios to help make more-informed business decisions. Here's how you can use these tools for your year-end financial planning.
Budgets vs. forecasts
The budget function in QuickBooks is typically used to manage expenditures during the year to ensure that departments and locations spend according to authorized levels. QuickBooks allows you to create a new budget from scratch. However, budgeted amounts often are based on the prior year with adjustments for new projects and expected growth.
For example, your marketing department's salaries might be based on the prior year with adjustments for raises (if any). Suppose the department hired a new team member in October 2023. When preparing the department's 2024 budget, you'd make an adjustment for that individual's full-year salary based on the prorated amount from the prior year.
The forecast function is used to make projections and perform "what if" analysis. To illustrate, you might run worst, most-likely and best-case scenarios for revenue and expenses for the coming year.
For example, suppose your company plans to build a new facility in the third quarter of 2024, and you plan to finance a significant portion of the cost. Because it's unclear whether the Federal Reserve Bank will raise or lower interest rates in the coming months, you might run multiple financing scenarios with varying interest rates. You also might vary other inputs, such as expected construction costs and revenue and expenses related to opening the new facility, when you perform your scenario analysis.
How QuickBooks features work
To access these tools in QuickBooks, select "planning & budgeting" from the company menu. A budget or forecast can be created for both the profit and loss statement (also known as the income statement) and the balance sheet. You can increase the detail of a budget or forecast by adding figures at the customer/job or class level (or both).
Each budget and forecast created is saved in a unique file and managed separately. If your organization has multiple departments or locations, you can budget and forecast using QuickBooks classes. If you track job costs, you can even prepare forecasts and budgets for individual jobs.
QuickBooks also allows you to view different sets of reports for budgets and forecasts. You can use these reports to review your entries. In addition, you can view comparisons of how the company's budget or forecast compares to actual results for income and expenses, classes, jobs or balance sheet account balances.
There are two advanced options to consider when using QuickBooks. One is the cash flow projector; this tool also allows you to determine sources and uses of cash to plan ways to avert projected shortfalls in cash. The second is the business plan tool, which allows you to develop a complete master plan for your business.
Planning in uncertain times
Many businesses are currently facing rising costs, uncertain demand and labor shortages. In today's volatile marketplace, preparing reports that plan for the financial future is critical to survival. It's also important to monitor progress throughout the year — not just at year end. The hard part is creating the underlying assumptions that will drive your budget or forecast. The easy part is entering the information into QuickBooks. Contact us to help you plan for 2024 and beyond.
© 2023
TopLine Content Marketing Team